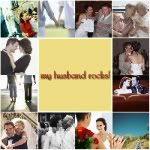 How long has it been since I've done My Husband Rocks? Seems like forever! Well, Sound Man knows I love him, but it is time I get back into the swing of things.
This week Katy Lin challenged us (via Sarah Mae) to write a letter to our husbands telling them why you respect and love him. I loved this, because even though I tell my husband daily that I love him, I don't tell him nearly enough why I love him. So, that's what I did.
Now, I will have to say here that I cheated. I emailed him. Listen, if you've ever seen my handwriting you'd know it was for the best. Oh, I know, I know, it was the sentimental thing to do to write it down so he would have it in his hands. I will eventually do that, but I wanted him to read it tomorrow, and I didn't think I'd have time to write all of it by then.
Here's my challenge to you: even if you don't participate in MHR, you can still tell your husband why you respect him. If you've seen Fireproof you know how far that will go. He needs your affirmation. The world and our enemy does not want him to feel like he is a real man. They beat him down at every opportunity. It is our responsibility as wives to help build him back up. Notice I didn't say it was our responsibility to build him...we are to be his help-meet. The Father is the Builder. If you don't have a relationship with Him, I can't plead with you enough to turn to Him. Life is hard enough, but without the Hope we have in Christ, most marriages are doomed.
If you are not a Christ follower but would like to know Him or more about Him, please email me, I'd love to tell you about Him!
Wow. I didn't know that talking about my husband would lead me to talk about my Savior! But I'm all good with it! I hope you have a great weekend!