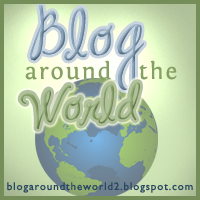 For those of you coming from Blog Around The World, Hey y'all! I'm so glad you are checking us Mississippi girls out. I have spent days trying to figure out what to say to you and what to leave out. I can get a bit chatty. Somehow I think that's not going to change with this post. While I was doing my first draft (yes, I'm a perfectionist...what can I say?) I kept coming up with more and more to write about, and had to delete some just so you wouldn't get so bored you fell asleep on your keyboard. Debbie is a creative genius for heading this trip up! So, without further ado...Welcome!

I've lived in DeSoto County, Mississippi most of my life. My family has lived in DeSoto County for many generations, a fact that makes me proud to live here. I know there are tons of jokes about rednecks and trailer parks in Mississippi, but that's not what we're about, just like any of the southern states. I love the saying I've seen on bumper stickers..."American by birth, Southern by the grace of God!" I hope I can give you a glimpse of why I love it here.
Before we go any further, let me give you a little grammar lesson. "Y'all" is a correct contraction for "you all." Ex: "Y'all get washed up for supper!" "Fixin'" means you are about to do something. Ex: "I'm fixin' to go to the store, do you need anything?" Adding an "R" to the end of a word normally ending in a vowel, while not widespread, is permitted. As is the opposite, taking the "R" off words ending in "R," substituting "uh" or "ah" in its place. Making words normally one syllable into two or more is expected. Taking one or more syllables out of words that normally have two or more syllables is also the norm. Now that you understand our vernacular, you're ready to go.
You can't get any further north in Mississippi than where I live. In fact, Southaven's slogan is "Top of Mississippi." Southaven High school is where John Grisham graduated from, as did my Sweet Husband. Only not at the same time.
Okay, on to the basics: our state flower, as well as state tree, is the Southern
Magnolia. For those of you who have not seen or smelled this gorgeous flower, the fake scents of candles and potpourri just don't do it justice. Not even Yankee Candles, my favorite. The blooms are huge and the leaves of the tree stay green all year long, making beautiful arrangements at Christmastime.
Our state bird is the Northern Mockingbird. I'm sorry, maybe it's not being politically correct to say you hate your state's bird, but I just cannot tolerate it. I mean, why not have a bird that is not so annoying you want to shoot it at 3 o'clock in the morning? And let me tell you, I am a certified bird nerd. I love all things avian, but my love has conditions. Not singing at the top of your lungs in the middle of the night is one of those conditions. So, even though the Mockingbird really has a beautiful voice and can mimic many other birds, I just don't like it. By the way, I didn't take this picture. I have no idea to whom to give credit, but I believe in full disclosure. So there you go.
Moving on to great places to go, not far from my neck of the woods is the college town of Oxford. Right now there is a lot of buzz going on down there because the Mississippi Southern Living Idea House is just outside Oxford in Taylor, Mississippi. I haven't been able to go down there yet (it's a little over an hour away), but I would like to before it closes in October.
If you don't tell my Kiddo that I did this, I will say a little about the university that's in Oxford. Shhh...if he finds out I will be disowned. See, even though we live in Mississippi, we are die-hard fans of the University of Memphis Tigers. Which, by default, means we must hate Ole Miss (its real name is the University of Mississippi). That's not what I was going to tell you, though. There are generally two colleges you pledge your allegiance to when you live in North Mississippi (we have pledged no such thing to either one, but most everyone else I know has); Ole Miss or Mississippi State. Loving one means hating the other. SEC fans are tough, man. There's also Southern Miss, where Brett Favre went to school. Did you know he is from Mississippi? (Side note here...the JETS????)
Undoubtedly the most famous person ever to come out of Mississippi has to be Elvis Presley. You know his house is in Memphis, but did you know he was born in Tupelo? I have only been to his birthplace once; I went with my Australian friends, Grant and Rod when they came to visit back when I was 23. In other words, eons ago.
This is a picture of Rod and Grant on the porch of the Presley home. Don't ask me what Grant was doing with his leg on the rail like that. I'm surprised he didn't get us kicked off the property for not keeping all hands and feet inside the tourist attraction.
Speaking of Tupelo, the Tupelo Buffalo Park and Zoo is one of the neatest places in North Mississippi that I've never been to. I'm not joking when I say that. My sister and nephew enjoy going there, but I haven't made it down there yet. I know my Kiddo would love it.
Another town that has a lot to see is Holly Springs. It has the most beautiful Antebellum homes that you can tour during the annual Pilgrimage. It is also the setting for Jan Karon's latest novel, Home to Holly Springs. I loved that book. I love all of Jan Karon's books. If you haven't read her Mitford books, you must. MUST. They are set in North Carolina and are delightful. Sorry, I digress. Again.
Many places in Mississippi were Civil War battle sites, but probably the most famous in North Mississippi is Corinth. If you are into history, particularly Civil War history, this town is for you. They have so many museums, tours, and reenactments it makes you feel like you are back in time.
Another town where there is lots to do is Tunica. Forget the casinos. There's more to do than waste your money there. The Tunica Aquatic Center is an indoor pool that has a water feature for any age. The Tunica River Park is a beautiful place all around, with state of the art architecture, a gorgeous view of the Mississippi River, a museum of Mississippi's Natural History, and walking trails that take you on a nature hike.
This picture of my Kiddo and Husband was taken a few years ago from one of the lookouts at the River Park. Sorry the quality is so horrible...I forgot to give my husband this one to scan at work so I had to take a picture of it. I'm desperate, I know.
Here's another picture of the river. Every time I drive across it from Memphis to Arkansas I'm reminded how massive this body of water is. This picture just doesn't do it justice. Especially since it's another picture of a picture.
Another body of water that is close to us is Arkabutla Lake. There's not much I can say about Arkabutla, but I wanted to point out that, per my dialect instructions listed at the beginning of this post, I was nineteen years old before I knew Arkabutla was not spelled "Arkabutler". We passed a sign for it on the interstate and for a split second I thought, "Hey, they spelled it wrong!" Then the reality hit me that, no, they spelled it correctly, but I, along with everyone else who had ever said the name since the lake was formed, pronounced it incorrectly. And I still do, dagnabbit.
I know this post has been all over the place (literally!), and I'm not usually so disjointed, but I wanted to show y'all a little bit of everything. I hope your head isn't spinning, and I hope you are still awake. I didn't even get to talk about the Delta (where The Blues was born, and yes, that is correct grammar), Hernando (our county seat named for Hernando DeSoto, who discovered the Mississippi River in 1541), Snowden Grove (one of the best little league baseball parks in the country), and so many other things. If you're still with me, thank you for letting me talk incessantly about my neck of the woods.
I do love Mississippi!