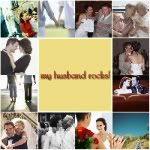 This week for My Husband Rocks! I won't have any pictures because my battery died in my camera. But I did want to share with you why my sweet husband most definitely rocks.
Yesterday I woke up with major sinus issues. Sound Man was so sweet to me all day, even calling to check on me throughout the day. When he asked what I had planned for supper (Taco Ring) he told me he would make it when he got home. It helps that it's one of his favorites.
I didn't see him come in when he got home since I was putting a load of clothes up, but when I walked into the kitchen he turned around with a vase full of Daffodils! They were so beautiful and even had a couple of unopened buds that made the whole thing look so gorgeous!
I have the most thoughtful husband. He spoils me rotten and takes such good care of Kiddo and me. Thank you, My Sweet, for being the kind of man that most definitely ROCKS! Who else would take over his wife's blog and tell the world that she rocks? Yeah, that was a surprise, too. He's just full of them.
If you'd like to see where "My Husband Rocks!" started, head over to Katy Lin at The Great Adventure.